**PLEASE NOTE: MEMBERSHIP RENEWAL FOR STATUS CARDS ARE UNAVAILABLE AT THIS TIME. WE APOLIGIZE FOR ANY INCONVENIECE. **
The NTC IRA/Membership program is a part time program.  The reason for this, is that several First Nations have made the decision to administer their own Membership Programs. 
Randy Ginger, Indian Registration Administrator, administers the Indian Registration Program on behalf of Indigenous Services Canada for 7 of the 14 First Nations.  The NTC IRA/Membership Program provides services to members of these First Nations only:
Ehattesaht
Hesquiaht
Hupacasath
Kyuquot/Checklesaht
Mowachaht/Muchalaht
Nuchatlaht
Tseshaht
Karen Mack is the staff member who will assist to provide back up services for status cards issuance only.
Members of the following First Nations should directly contact their respective band administration for assistance with membership or status card services.  These First Nations administer their own programs:
Ahousaht
Ditidaht
Huu-ay-aht
Tla-o-qui-aht
Toquaht
Uchucklesaht
Ucluelet
Status Card Services
Status cards services are available on Tuesday and Thursday by pre-booked appointment between the hours of 9:30 am to 3:30 pm.
Eligibility for Status Card  
Entitlement is based under Section 6 of the Indian Act and is protected by the Federal Privacy Act.
Registration of events are not automatic, proper forms need to be completed and signed and original certificates need to be provided. For birth registrations, original birth certificates with the parental information have to be submitted. Once birth events are recorded the birth certificate is sent back with a letter confirming that the registration is complete along with the new Registration number of the child.
Immediate ISC Assistance Available
If you require immediate assistance, ISC will be able to answer any questions directly, send your questions or concerns with your Name, Date of Birth, or Reference Number, to the following direct email:  infopubs@sac-isc.gc.ca.
Program Contact:    
Randy Ginger
Indian Registration Administrator
PO Box 1383
Port Alberni, BC V9Y 7M2
Phone: (250)724-5757
Fax: 250-724- 5767
Toll free: 1-877- 677-1131
randy.ginger@nuuchahnulth.org
Karen Mack
Indian Administrator Assistant
karen.mack@nuuchahnulth.org
BIRTH REGISTRATION UNDER THE INDIAN ACT: 
To register a child on AANDC's Indian Registration Program and your First Nation/Band membership, parent(s) must submit:
A signed parental consent form for registration
The original child's birth certificate that states the names of the child's parent(s) 
A signed Birth release form to be added to the Band List
*NOTE: TO DETERMINE A CHILD'S CORRECT ENTITLEMENT UNDER THE INDIAN ACT, IT IS VERY IMPORTANT THAT BOTH PARENTS ARE ON BIRTH DOCUMENT IF THEY ARE BOTH REGISTERED INDIANS.
*For all other events, please contact the office directly.
*For Band Membership contact the Band directly.
Certificate of Indian Status
CERTIFICATE OF INDIAN STATUS CARDS – AANDC ID REQUIREMENTS
This is to advise that Aboriginal Affairs and Northern Canada has implemented new ID requirements for status card applications. This policy must be followed even if the issuing officer personally knows the applicant. If an issuing officer fail to follow these new requirements, they may lose the authority to issue status cards. Please bring with you the following identification to the office for the laminate type status Indian Registration card: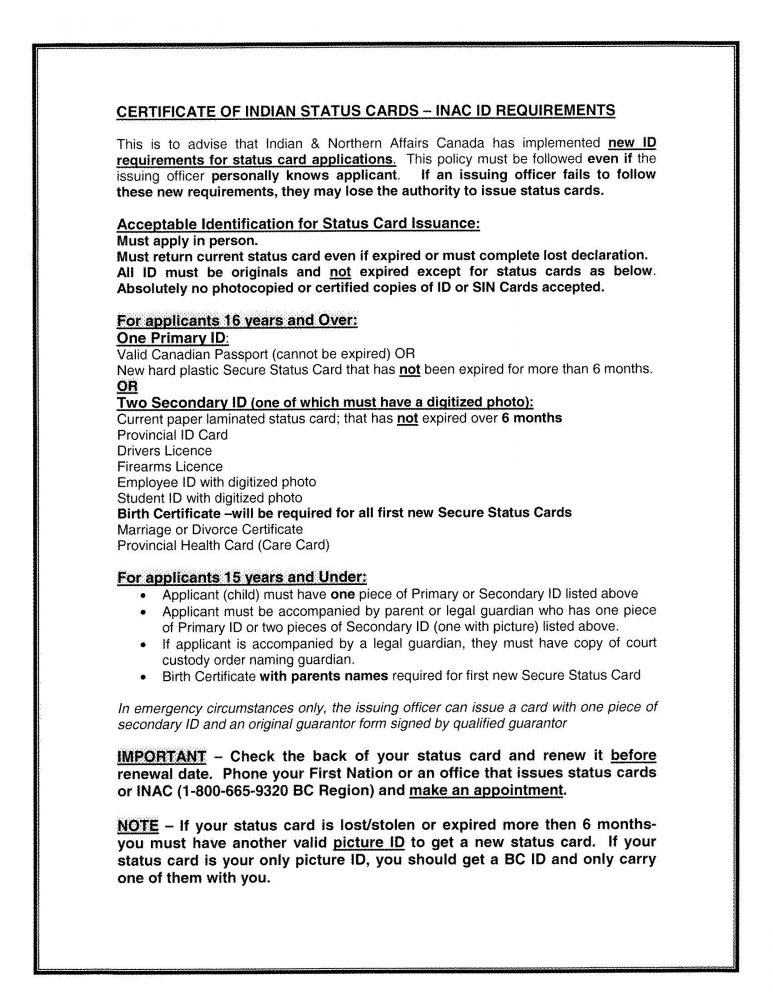 FORMS CHANGES - REGISTRATION
The forms that are being used are listed below now for registration.  Although there are only 2 addresses on the forms, regular birth registrations are to be forwarded to Membership.   Along with the original birth certificate, photocopies of parents ID need to submitted with the application and a list of acceptable guarantors are also attached.
Application forms for first-time registration (births) are being replaced.  Use these forms for all first-time registration applications.
Please refer to this link for forms, including the Secure Certificate of Indian Status: http://www.aadnc-aandc.gc.ca/eng/1462806841047/1462806896945   For direct links to forms:
Please refer to this link for forms, including the Secure Certificate of Indian Status: http://www.aadnc-aandc.gc.ca/eng/1462806841047/1462806896945